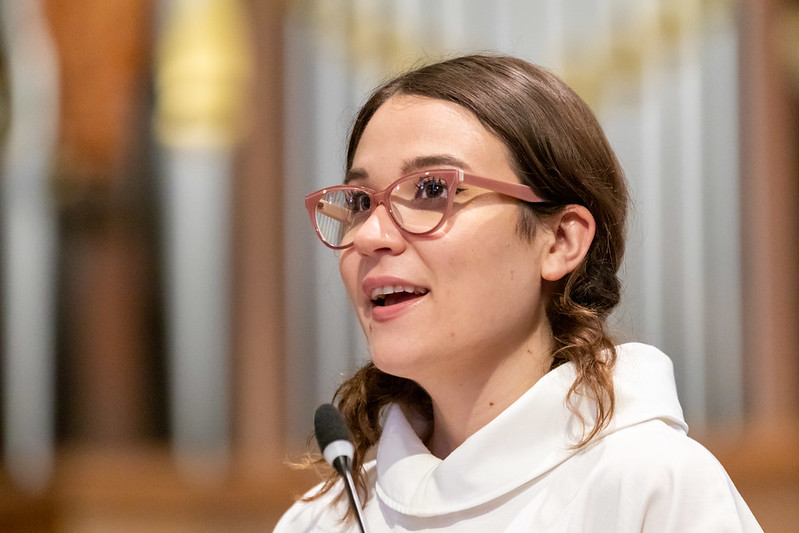 May 30, 2021
Maya Little-Saña
The last time I preached on Trinity Sunday, I think I was 17 years old and I assumed the Herculean task of trying to explain the Trinity in 9 minutes or less, and pretty sure I committed heresy in four.
So I have learned that this is not the day to explain the Trinity, but to celebrate it. In fact, what I love about the profound mystery of the Trinity is that it cannot be fully understood. Because of this, the Trinity circumvents the power dynamic of knowledge as we see play out in Nicodemus' dialogue with Jesus. Nicodemus is a powerful religious leader, a member of the Sanhedrin, the Jewish ruling council. We can also assume that he was wealthy, as he brought a huge quantity of spices to assist in Jesus' burial. So this wealthy, powerful religious leader comes to Jesus and is met with a truly confounding statement " no one can see the Kingdom of God without being born from above".
And after some back and forth wherein Nicodemus tries to understand what Jesus means, Jesus replies, perhaps ironically, " Are you a teacher of Israel, and yet you do not understand these things?". And then he hits him with "we tell you what we know and our experiences, but you all, you all don't listen- how could you understand?"
There goes Jesus, disarming another hierarchy; the power dynamic of knowledge.
Then and now, knowledge that was considered legitimate belonged to the wealthy, powerful, and privileged, and the experiences and wisdom of the under-educated and marginalized were discarded. We have heard it said that "knowledge is power", and too often that power is hoarded and made accessible only to an elite few. In her widely utilized article "White Supremacy Culture", Tema Okun cites objectivity as a value that reinforces white supremacy culture because when one truth is held as absolute and superior, it is often that of dominant groups. In this power dynamic of knowledge, ancestral, indigenous wisdom, the wisdom of intuition and our bodies, and the wisdom of children are suppressed.
But Jesus dismantles this oppressive dynamic by affirming the ability of testimony and experiential wisdom to point us to the Kingdom of God, and away from hierarchies, empire, and the comfortable illusion of certainty. We see this in the Gospel of Luke when Jesus, full of joy through the Holy Spirit, said, "I praise you, Father, Lord of heaven and earth, because you have hidden these things from the wise and learned, and revealed them to little children. Yes, Father, for this is what you were pleased to do." Because it cannot be understood cerebrally, the Trinity cannot be wielded exploitatively, though many have certainly tried.
It is important to note that when Jesus challenges existing hierarchies, he doesn't create new ones. Remember, Jesus is the one who makes the hills low and the valleys high, he levels the playing field. He knocks staunch objectivity and elitist knowledge off its pedestal and lifts up the power of testimony and experiential wisdom so that we all may love the Lord our God with all our hearts, souls, and minds. Ultimately, faith is loving God without needing to fully understand God. One of the many paradoxes of the Divine is that God is incomprehensible, ineffable, but can be known in glimpses of revelation. God's glory is revealed to us in the breaking of the bread, in prayer, in scripture, and beloved communion with one another. It is the task of those who love God to discern and pay attention. To pay attention to testimony, to let ourselves be guided by those the world deems as unwise or unlearned, to discern intuition, to pay attention to the sound of the Holy Spirit moving- all with the awareness that we won't ever fully understand it. Nicodemus stuck around even when he didn't understand. He didn't surrender his whole life right then and there to follow Jesus like the other disciples- but then again, how many of us do?
Though we won't fully understand God as three persons, we are invited to stick around and experience God in all goodness, glory, and grace and to be transformed in the process.