As a church, we are called to minister to and nurture the spiritual emotional needs of our children, youth, and their families. Through our weekly formation groups, at-home resources, age-inclusive worship, and a wide variety of events, we hope to empower them to receive and respond to the liberating and life-giving love of Christ; in themselves, their communities, and the world. 
Sunday Worship: What to Expect
As members of the Body of Christ, we value the presence of babies, children, and youth in worship; and all the wiggles, cries, and squeals that accompany them! In response to Jesus' call to bring the little children to him, we welcome families to worship in the pews or in the Prayground, a 15′ x 10′ soft space in the front-left side of the Nave designed for children to worship in their unique, God-given way. The Prayground is carpeted and stocked with developmentally appropriate worship materials like coloring pages, children's Bibles, and a cardboard communion playset. Most families choose to attend the 10:30 service, but the Prayground is open for all of our services. During the Eucharistic prayers at the 10:30 service, the children watch closely as the priest consecrates the Bread and the Wine. Children may receive the bread and wine (or just the bread) at any age, depending on family preference. 
If you need to take a break, exits are on either side of the north aisle, where the Prayground is located. Children and youth may also sign up to serve as ushers, readers, or acolytes on any given Sunday. Email our Head Verger Lisa Churchill at spcheadverger@gmail.com

Our Infant and Toddler Room is available for families every Sunday from 10 am-1 pm. This space is equipped with toys, a changing station, and a live stream of the service for families to take a break, if they need it. 
Spring/Summer 2023: A Time of Transition
Our Family Minister Maya Little-Saña's last day is Sunday, April 30. As we enter this period of transition, please take note of our amended schedule of offerings and Summer events. Keep an eye out for updates in our weekly e-bulletin (click here to subscribe) or contact Chapter Member Lucero Cuarezma-Samano at lucerosamano@gmail.com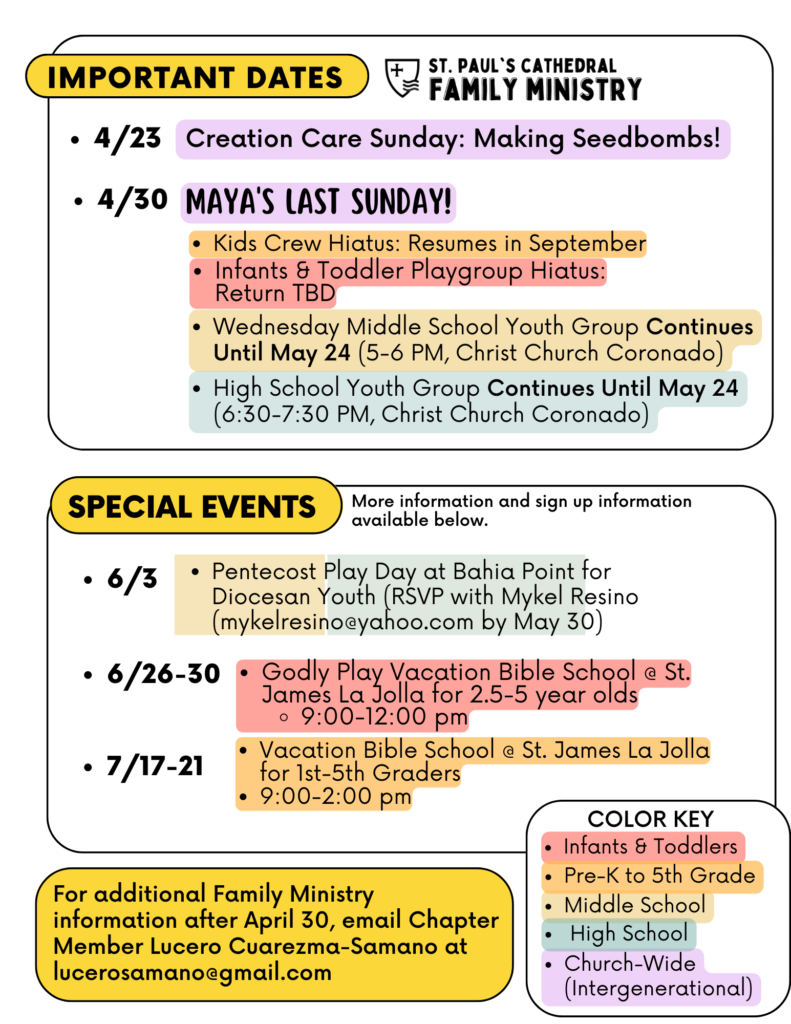 Pentecost Play day at bahia point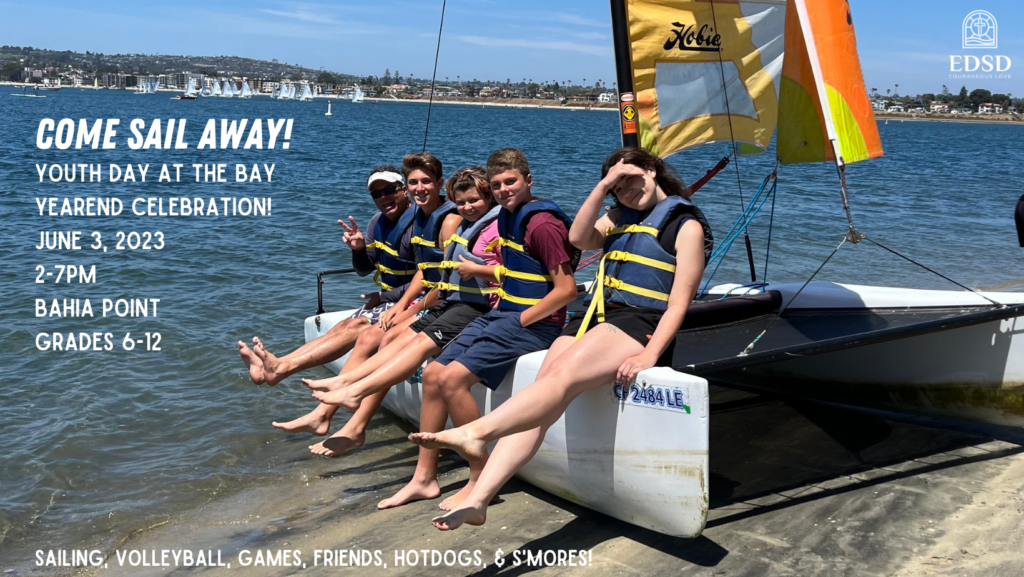 June 3, 2023 – 2-7pm – – Bahia Point – Grades 6-12 – Come and enjoy an afternoon of fun with young people from all around our diocese. There will be the opportunity to sail, swim, play games, and relax with friends. Please let Mykel Resino if your child plans to attend by Tuesday, May 30 by emailing mykelresino@yahoo.com
 All youth must bring a completed waiver. CLICK HERE TO DOWNLOAD THE REQUIRED WAIVER.   
two vacation bible school offerings at st. james by-the-sea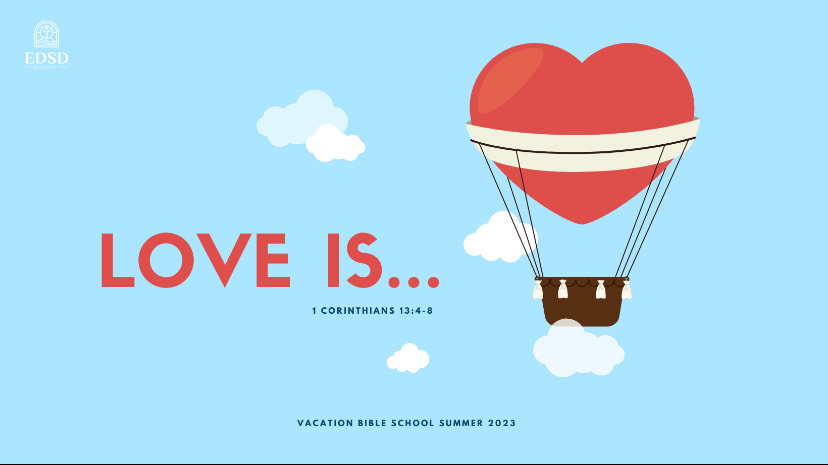 Love is… 

Godly Play VBS

 will be held June 26-30 from 9:00 am-12:00 pm for ages 2.5 years to rising Kindergarten campers.  Max: 12 campers

 
Love is… VBS will be held July 17-20 from 9:00 am-3:00 pm for rising 1st-6th grade campers. Campers must have completed Kindergarten to register for this VBS.
Max: 36-40 campers (depending on volunteers/leaders)
Tuition is $85 for first camper, $75 for each additional camper and a cap of $175 per family.