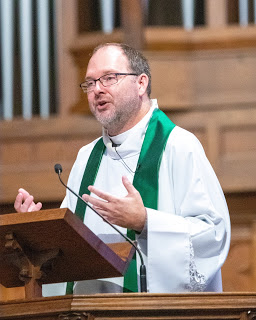 The Rev. Canon Jeff Martinhauk
Christ the King A, November 22, 2020
St. Paul's Cathedral, San Diego
Matt 25:31-46
Mother Teresa of Kolkata is now well known for her acts of mercy and service. Her ministry was among the most poor and outcast on the streets of India. She was known as a "funny little nun who goes around collecting dying people." She would clean the wounds of children on the streets. She would touch the untouchable. She saw something loveable in every human being no matter what.
Malcolm Muggeridge was a religious skeptic and journalist who made a documentary about her in 1968 called Something Beautiful for God. It was that reporting that brought Mother Teresa to the attention of many in the world. Muggeridge did not really know what to do with Mother Teresa. She did not fit his categories. He was known for tearing down religious institutions and mocking cherished beliefs.
But in Mother Teresa, he found something he could not classify. It was a window into a mystery he had never experienced– something so powerful that his visit with her eventually led to his conversion to Catholicism. He told her during his visit that he was "struck" by the joyfulness that he found at what he and other outsiders might think to be impossible and difficult tasks.
Joyfulness. Seeing joyfulness in tasks that outsiders might think to be impossible; in the caring for human beings that are deformed, or gravely ill, or dying. At the convent, he said, Mother Teresa and her sisters found joy in their work of service, of giving themselves away, of doing something different than outsiders find usual.
Today is Christ the King Sunday. On this, the last day of the church year, we celebrate God as our sovereign. We celebrate our citizenship in the kingdom of God.
If someone were to ask any of us what kingdom we are citizens of, I doubt any of our initial response would be to say, "I am a citizen of the kingdom of God." We may make promises of allegiance to this alternative kingdom at baptism, but sometimes it can be a hard kingdom to see in our daily lives. I know my daily life looks much less like the kingdom than Mother Teresa's does.
When I look around, the kingdom we live in often seems not to be something I want to celebrate. Populism, colonialism, corporate greed, hierarchy, racism, disease, isolation and loneliness– these are the kingdoms we see at work much of the time in daily life. And often these kingdoms appear to be winning, and glorified at that victory. People I meet usually glorify the pursuit of happiness, or wealth, or looking young. With the things glorified by our kingdoms, is it any wonder Muggeridge was so surprised by what he found in Mother Teresa? To find so much joy in picking a dying person up out of the slum that it is what you pursue and glorify, or wiping a sick person's wounds– it is revolutionary; countercultural– a kind of counter-kingdom.
I think the joy he saw was an inbreaking of the kingdom we celebrate today, the kingdom of God, the kingdom we swear fealty to in our baptism. It was hardly recognizable to Muggeridge because this kingdom of God is so different from what we expect. It takes joy not in what we see in commercials or the news but in other behaviors: Turn towards the poor, dying, sick person in the road. End selfishness. Find joy in being connected as one human family. That sounds like a beautiful kingdom.
My own faith tends to be challenged by Christ the King day. I have a practical faith. I need to see that faith makes some difference in people's lives here and now. And the challenge is not unlike the problem I imagine that Mr. Muggeridge wrestled with until he met Mother Teresa. We don't always appear to be living in a very godly kingdom– Mother Teresa and her ilk do not rule the world we live in. This kingdom is not ruled by turning towards the other, turning towards interconnectedness, turning towards generosity, turning towards being one human family. I relate to his surprise when he stumbled across Mother Teresa's joy in the midst of what seemed like difficult acts of service because we see a very different kingdom at work every day than the kingdom where Mother Teresa lived out in her life.
In that kingdom the beatitudes are the culture, and people live showering each other with mercy without expecting anything in return for it other than joy. People in this kingdom, like the ones at Jesus' right hand in the parable this morning, are delighted and surprised to learn that Jesus is found in the ones they have been feeding, clothing, visiting, comforting. And surprised to learn that Jesus has been found by others in them, too.
The cross appears to triumph in this Christian story; the kingdoms of this world don't know any other way. But as followers of the risen one we wait not at the cross, but at the empty tomb. And it is there that we find snapshots of a transformed life, where glimpses of God's kingdom can be seen here and now not only in each of us but also in surprising places outside of any boundary we may create: in the hungry, in the naked, in the stranger, in the prisoner, in the sick.
It is a small group, this group who sees the joy in that service, who wait at the risen tomb for snapshots of this kingdom. But no matter how dark the night, no matter how much the cross seems to win, no matter what kingdom of power and force are visible around us, we followers of Jesus wait, huddled in the crisp morning air for the rock to roll back and show us a glimpse behind it– an empty tomb that is completely surprising, a mysterious kingdom that reveals a new way.
At St. Paul's we make a habit of looking for those glimpses. On this ingathering Sunday we celebrate God's generosity in a season when pandemic runs rampant and food shortages abound. But if we look closely we hear stories of parishioners sharing meals and food and masks.
We wait in the morning light for the glimpse of righteousness, as the kingdom we see at work every day in the world around us works a violent racism out among people of color, especially in this nation. But at St. Paul's we are striving to find that snapshot of a peaceable kingdom, where the shepherd will bind up the injured and strengthen the weak, and feel the sheep with justice.
As we Rise Together we celebrate the way God moves in relationships, when the kingdom visible to us is starved for love in the midst of plenty, we celebrate the snapshots we have of strengthened relationships, built through Circles of Love, small group ministries, small moments and big ones, caring for each other when sick or discouraged, and believing in the dignity of every human being.
As we end this liturgical year and begin looking into the next, preparing to hope for the advent of this kingdom we have only glimpses of, let us celebrate the places in our life together where God is showing us what the kingdom looks like, where, if Muggeridge were to do a story on us, he might be amazed because we were finding joy in such unusual places.
Where do you find those snapshots of the kingdom of God? How can we have eyes to see Jesus breaking in with glimpses of that kingdom in the most unlikely of places and people?
Sources Consulted:
http://www.graceseattle.org/uploads/documents/SomethingBeautifulforGod.pdf