From our Simpler Living creation care ministry:
Register for this free Zoom program sponsored by Stay Cool for Grandkids, May 26 from 6:30 – 7:30 pm.  Three experts will offer nature-based solutions like community gardens, backyard gardens, and water harvesting systems as a way to reduce greenhouse gas emissions and increase the resilience of our water infrastructure. Click Here to Register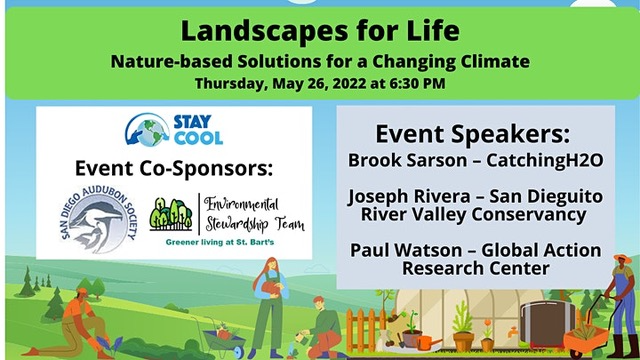 Take action:
From California Interfaith Power and Light
Our bill on EV equity – SB 1482 – has passed the Senate Housing and Transportation Committees! That means it's headed to Appropriations and then the Senate floor for a full vote. Please, contact your State Senator today to call for common-sense climate equity legislation. 
Also,Take your advocacy to the next level and join us for Virtual Lobby Days. You can join from the comfort of your home for a 30-minute meeting with your elected officials. No experience needed. Meetings scheduled June 21 and 22. Click Here to Sign Up
Let us pray:
Generous Giver, you pour forth your extravagant bounty without measure upon your whole creation: Teach us such generosity that the fruits of our spirits and the works of our hands may build your commonwealth of blessing. Amen.