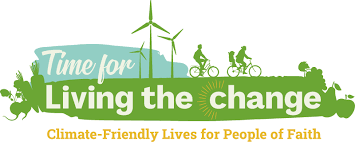 From our Simpler Living Ministry
GreenFaith, the global climate justice organization that brought us Faiths 4 Climate Justice, invites us to step up our walk as we talk about the climate emergency. While individual behavior change by itself can't save the planet – massive corporations, uncooperative governments, and greedy banks impede progress on climate justice – our increased commitment through our actions is essential to this social movement.
Their New Year challenge is:
When you register Simpler Living would love to know, please consider emailing Diane at (dianelopezhughes@gmail.com).
Write a short letter to yourself about why you're taking part.
Connect with others on GreenFaith's Monday "Living the Change" community calls beginning on January 3, listen to a spiritual reflection and share successes and struggles.
Reflect and share about the resolution you are living out.
Join the celebration and sharing with the global community on their January 31 call!
Simpler Living members will be Living the Change. We hope you will, too! Sharing our low carbon resolution with our families and faith communities offers a model for others to consider, as well as encouraging more attention to the critical concern for God's Creation.