Hello St. Paul's,
I am back from two weeks of rest and relaxation, and I am very grateful for our parish leadership and staff who keep things running smoothly when I am away. Special thanks to Kathleen Burgess and Donna Perdue for providing the weekly letters. As we approach the general elections I know we are all aware of the tension in the air, and I sense a general feeling of dread, as we anticipate possible ugliness and violence at the polls and in the aftermath, regardless of the outcome. We all need opportunities to find joy and be hopeful about the future: as Christians we are people of hope and we can depend on our loving God to always give us reason to hope for a brighter future.
In that vein I want to share with you some exciting "coming attractions" that we are working on at church. Of course you already know about the highrise construction project: that has now officially reached grade level, and there will be a celebration to mark that milestone this Friday. Kathleen updated you a couple of weeks ago about the landscaping work that's about to transform the Queen's courtyard.
Over the last few weeks the old red door to the Great Hall building in the northwestern corner of that courtyard has been replaced by a splendid new door. Thank you master craftsman Del Cover for this beautiful work. The old door was literally falling apart and the lock no longer operated properly, so this was a necessary project. Here are pictures of the new door before and after it was painted in our traditional red. The door will be outfitted with electronic locks and connected to our security system.
Of course, once you put new paint on one part of a space, the rest of it starts to look shabby. So while our painter was on campus he gave the double doors in the center of the courtyard a fresh look too. Here's a picture of that project in process.
As we go forward into 2021 we don't know exactly how the pandemic will continue to affect us, but we can be sure that the changes in church attendance that were already evident before the current crisis will have accelerated. I don't want anyone to come to church if they don't feel safe, and our experience of this year is bound to have a lasting effect on our gathering habits and likely on church membership. We must position ourselves as skillfully as possible for an uncertain future; and both Chapter and I want to ensure that our beautiful buildings will continue to be useful to the community in any way possible. I'm convinced that this is the only way that St. Paul's can continue to thrive in the years ahead. For this reason Chapter is committed to rendering the cathedral both flexible and accessible – which is no easy feat in our old buildings.
You've heard me speak about replacing the pews with chairs: this will allow us to make the nave available for gatherings of many kinds. We currently have six sample chairs in the nave, available for you to look at and sit in, by appointment with Bob Oslie. Priorities for the chairs include comfort, elegance, and stackability. Here's a picture of the chairs.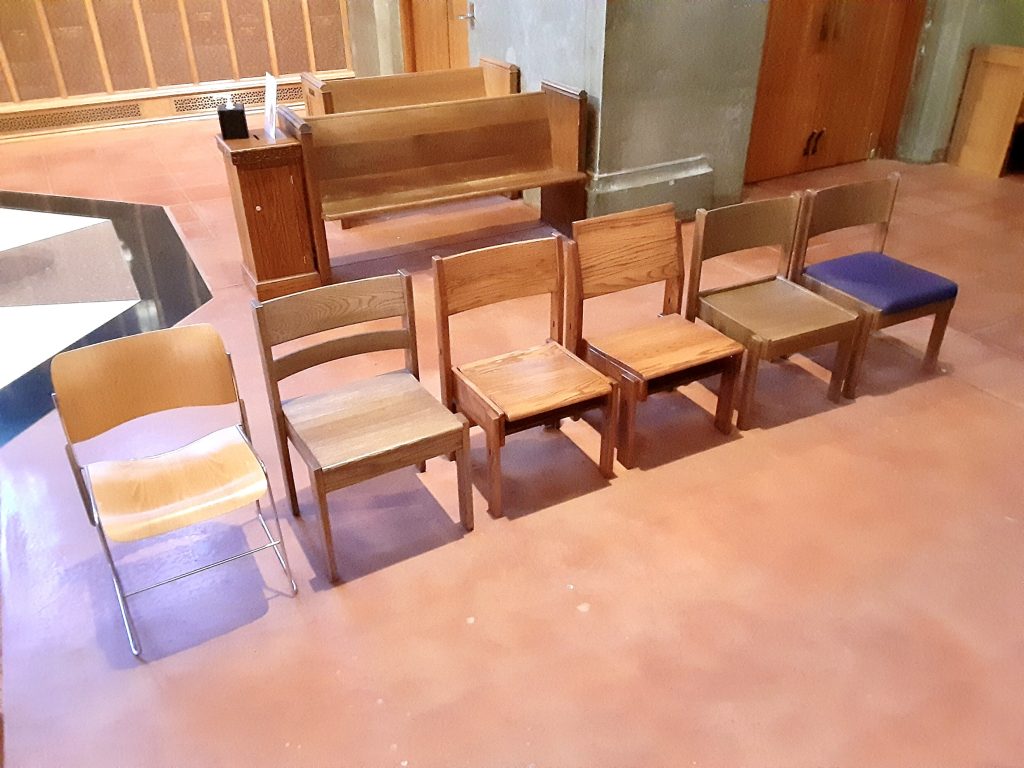 All of them can be stained to match our existing woodwork, and the one on the far left, a very popular model in British Gothic cathedrals, will stack 40 high for storage and portability. Here's an impression of the nave if it were populated with that chair. Bear in mind that the frame doesn't have to be silver.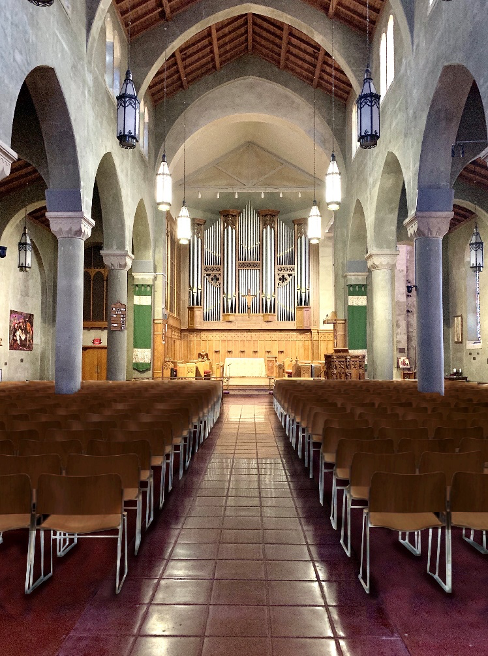 A related challenge is the need to remodel the Chancel, the space behind the altar rail. We need to provide wheelchair access to both chancel and chapel and eliminate as many steps as humanly possible. Our chancel is very narrow and has provided limited opportunity for large groups such as orchestras to perform there. With the help of a generous benefactor we have engaged the services of Domus Studio, a local architecture firm with expertise in liturgical space, to help us reimagine and open up the chancel space. They have come up with some exciting possibilities, and a special task force is working on refining the initial ideas to give us maximum flexibility. Once we have something fairly solid I will be sharing it with you.
We will return to our cathedral – you can count on that – and with these improvements we will be in good shape for the years ahead. I am so grateful to all of you who have already pledged for 2021 and for those who make special gifts, large and small, to allow us to make capital investments for our future.
See you on Sunday.
Your sister in Christ,
Penny