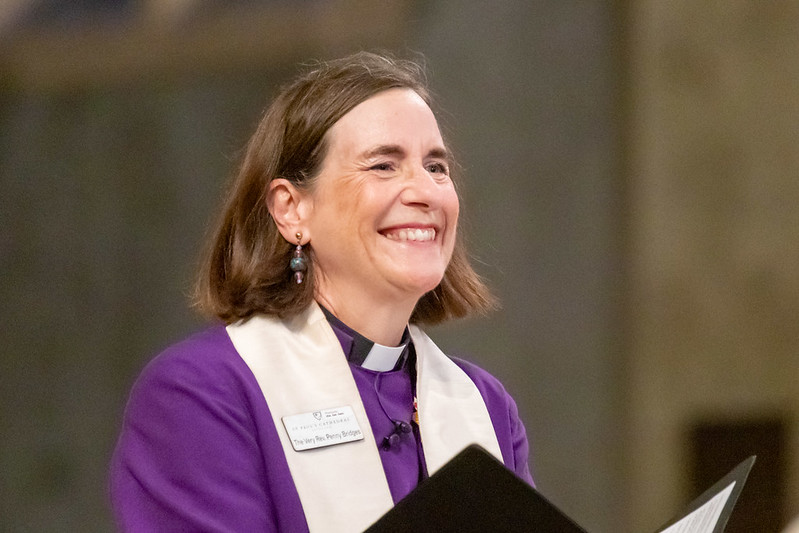 July 25, 2021
Penelope Bridges
Small Things with Great Love
Once again Scripture confronts us with stories about power: human power and divine power.
This story of David and Bathsheba is just horrific. David is comfortable in his power as king. He is so comfortable, in fact, that he no longer bothers to lead his men in battle, but sends others to do it for him while he lazes around at home, evidently with too much time on his hands.
Last week in Morning Prayer we read a story about the younger David, when he was fighting a guerilla war against Saul. He comes across a married couple, Nabal and Abigail, whose shepherds David's men have protected. David requests food for his troops and is rudely dismissed by Nabal. The beautiful and intelligent Abigail intercedes and manages to persuade David not to punish Nabal. When Nabal hears of his narrow escape, he has a stroke and dies; and David subsequently marries the clever widow.
Now we see David behaving very differently. He sees Bathsheba, the wife of Uriah, who is away fighting David's battles, and he abuses his power to have his way with Bathsheba, who of course is in no position to say no. Then he tries to cover up the consequences by getting Uriah drunk; and then, when that fails due to Uriah's sense of duty, he has Uriah killed. We see how worldly power can corrupt even the best of men, even God's chosen servant.
Now turn to the Gospel and see how Jesus uses his divine power in both of these stories.
The multiplication of the loaves and fishes is the only miracle related in all four Gospels, and more than once in some. It is clearly a key text for the followers of Jesus, with obvious Eucharistic echoes.
Let's be clear that this is the story of a divine act, not a clever manipulation of people who have more food than they need. You will find scholars who explain it away, with the suggestion that the people in the crowd are inspired or shamed into sharing with their neighbors what they have hidden in their pockets. That is not the point: the point is that we are to wonder at God's power to feed the hungry, to give us what we need when we need it, and to give it in abundance.
Have you ever thought about the boy who offered up his lunch? What it must have taken for him to step forward, tug on Andrew's sleeve, show him the little package in his bag? Have you ever thought about how hard it was for Andrew to make his suggestion to Jesus? He clearly had reservations – what is so little among so many? You can imagine the other disciples sniggering behind his back. And yet, the boy's timid generosity and Andrew's ridiculous suggestion result in something amazing.
Sometimes what seem like the craziest ideas turn out to be the best. Six years ago a parish couple came to me, to ask if the Cathedral might be willing to host showers for homeless people. They expected me to say no, but I didn't. There was something crazy about it – with all the challenges that we've faced with our unpredictable unsheltered neighbors, including theft, vandalism, and fires, the sensible thing might have been to say no. But it was so clearly in line with our Gospel values that we had to explore it. As you know, it wasn't long before Showers of Blessings became our signature outreach ministry, and now it's at the core of our dream of building a dedicated outreach center in our chapel undercroft.
A couple of fish and a handful of pita, along with a generous impulse, was all it took to satisfy the hunger of a multitude. What a crazy idea. We need more crazy ideas. The need of the world – for adequate food and water, for peace, for justice, for healing of the planet – is enormous. It's easy to be discouraged in the face of so much need, to think what good is my little effort in the face of so much need? It was Mother Teresa who advised us to do small things with great love.
Small acts of love and generosity will add up. Our individual pledges keep this great cathedral alive. Many gifts will make the outreach center dream a reality. Every member of our Legacy Society has answered the call to share of their abundance with future generations of cathedral families. Each bequest, small or large, makes a difference, and together they will make possible the future of St. Paul's.
Much smaller congregations than ours have made a difference: The Episcopal Church of the Resurrection in Alexandria, Virginia, was a small and aging congregation, in a city with an affordable housing crisis comparable to San Diego's. A few years ago the people of Resurrection made the extraordinary decision to demolish their building and work with a developer, to build a campus that would include both a new, smaller church facility and 113 affordable apartments for their neighbors. The Spire opened earlier this year for tenants. It will take a lot more projects like this to turn around the affordable housing situation in Alexandria, but for 113 households, it is making all the difference in the world.
Our outreach center won't fix the problem of homelessness in San Diego but it will alleviate some of the suffering of our unsheltered neighbors. Loaves and fishes: when the time comes to raise the funds, if each of us contributes whatever we can, we will find a way to build the center.
Jesus feeds the hungry crowd: there is plenty to go round and nothing is wasted. If only this were true for our world. This planet can produce enough for everyone, if it's stewarded wisely and distributed evenly. But that's not what happens. What happens is that wealthy countries like this one produce more than we need and waste an appalling amount of it. On average, Americans waste about one pound of food each every day. That's about 1/3 of the food supply.
Imagine buying a pack of six burgers and putting two straight into the trash, or pouring more than a quart from each gallon of milk down the drain. Of course it's more subtle than that: we never see the misshapen vegetables or the cuts of meat that Americans won't buy. We go to restaurants, ignore the basket of tortilla chips and push half the food from our supersized portions to the side of our plate. There's something outrageous, something blasphemous about the way we treat the precious gift of God.
Jesus demonstrates the divine power to give, to share, to provide what the hungry soul and body need. And, in case the disciples didn't get the message from the loaves and fishes, the next paragraph in our Gospel makes his power more explicit.
We know how powerful water is: how its scarcity leads to drought and wildfires, how its excess causes disastrous floods. There is nothing in creation more powerful or more dangerous than water.
The disciples, out in the boat, in the dark, are in peril from the fathomless deep; they have no control over their situation. When Jesus comes to them across the waves, they don't know him; they are still learning how to recognize the power of God in him. He greets them with the divine name – I AM – translated here, inadequately, as "It is I" – and adds the reassurance that always accompanies divine manifestations: do not be afraid. They reach out to receive him into the boat, as we reach out to receive the sacrament in our own boat, this cathedral vessel that holds us safe. And as soon as they receive him, they are safe, the boat miraculously beached, rescued from the chaos of the stormy water. Who is this, who controls the waves, who guides us through our storms to a safe haven? Who but the God who created the heavens and the earth, and who seeks to redeem the creation through the power of giving?
So, as I think about the feeding of the 5,000, I wonder: What if we approached each activity of ministry with the question: "What are people hungry for and how can we feed them through this ministry?" And, as I think about Jesus walking on the water I wonder: How can we demonstrate God's awesome power through everything we do at St. Paul's? And I wonder how each of us is doing with our individual efforts to work for the redemption and healing of creation? So, let's do a quick exercise:
If you own a low-emission or no-emission vehicle, I invite you to stand up.
If you restrict your meat consumption for the good of the planet, I invite you to stand up.
If you compost your food scraps, I invite you to stand up.
If you have solar panels on your home, I invite you to stand up.
If you are willing to commit to making at least one change in your life to reduce food waste or address climate change, I invite you to stand up.
When you stand alone you might feel like your efforts are insignificant, but when we stand together, our loaves and fishes add up. And when enough of us stand up, we will ultimately find that God's power, working through us, can accomplish infinitely more than we can ask or imagine.
Here's the prayer we will say together at the end of this service:
God our Creator, you feed your people with the bread from heaven: let this holy food sustain us through our earthly pilgrimage that we may come to that place where your people hunger and thirst no more and your creation is restored to its full glory; through Jesus Christ our Lord. Amen.