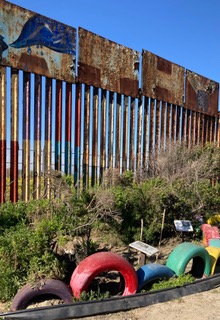 From St. Paul's Sacred Ground in Action Ministry (SGIA)
At last week's Good Friday Stations of the Cross at Border Church, the terrible impact of US immigration policies was evident. Although migrants shared stories of fear, discouragement, and sadness, hope was evidenced by accounts of perseverance and determination. One symbol of that hope was the Binational Garden, which continues to be tended regularly despite the impending threat of destruction as it lies within the path of the 30-foot border wall reconstruction. Daniel Watman, a garden volunteer, exemplifies that hope. He invited our congregations to extend our interest in being good neighbors across the border by volunteering with the Binational Garden.  Volunteer work days are Wednesday and Sunday from 9 – 12 and often Saturday as well.  Work days with your congregation/group can be arranged. They also do seed banking! Please contact Daniel for more information.
And for more on actions to address inequities at the border, contact Robert Vivar (rvivar@edsd.org) and John Fanestil (john@friendshippark.org) or go to friendshippark.org/the-park.