September is in full swing and we have lots of offerings on the calendar for children, youth, and their families. Continue reading for program and special event details and RSVP links. Make sure to register your family for the 2022-2023 program year! Click here or fill out the form embedded below. 
 Questions? Email our Family Minister Maya Little-Saña at little-sanam@stpaulcathedral.org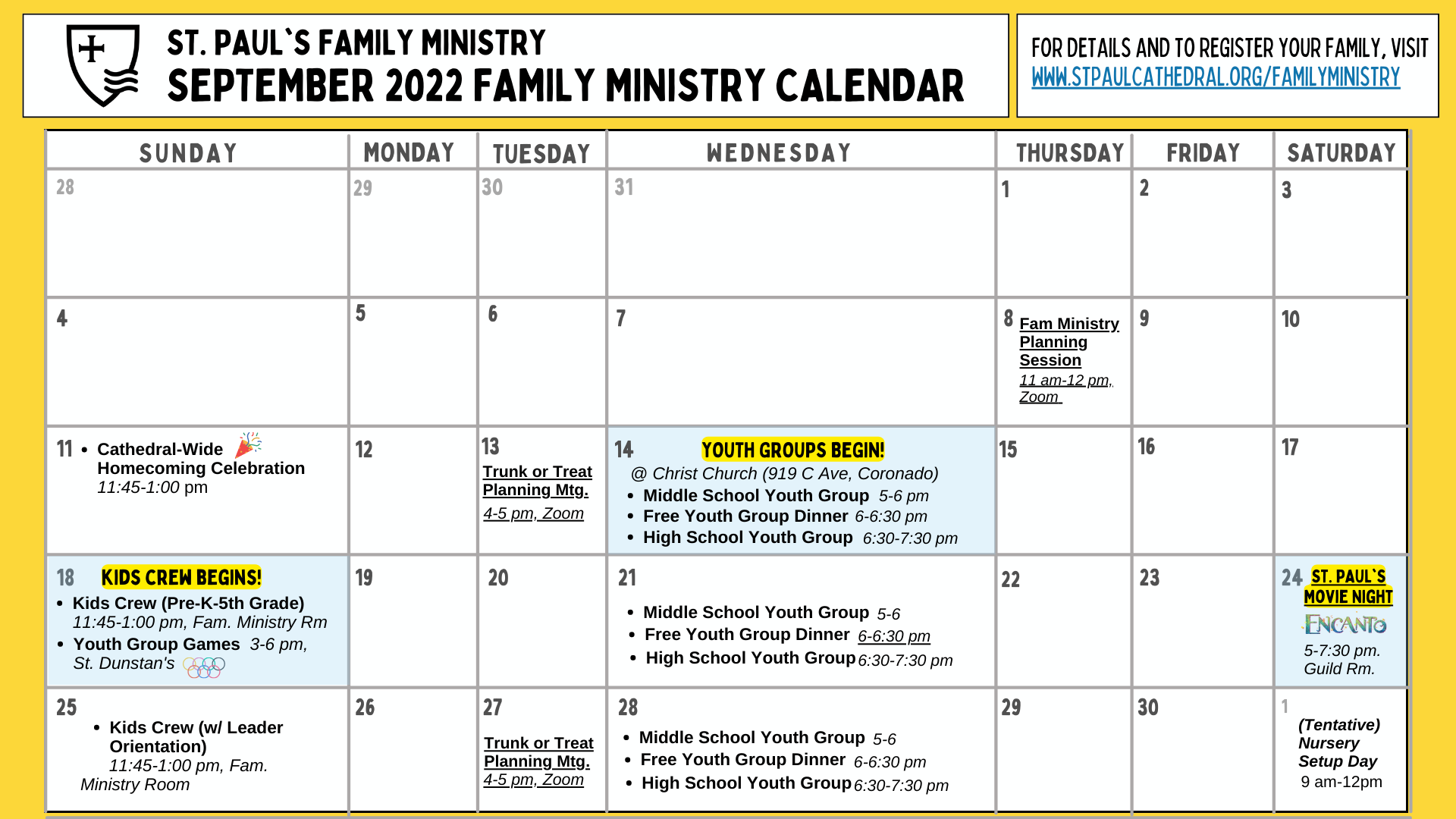 Homecoming & Ministry Fair// Sunday, September 11 after the 8 o'clock, 10:30, and 5:00 services
Homecoming is an annual event which marks the beginning of the "program year". Many of our ministries go on break during the summer months and return in the fall. Booths will be set up for those looking to learn more about our ministries' (including Family Ministry) exciting new plans for the coming year. There will also be a free baked ziti lunch!
EDSD Youth Group Games// Sunday, September 18, 3-6 pm, St. Dunstan's Episcopal Church ( 6556 Park Ridge Blvd), Free
Let the games (and the program year) begin! 6-12 graders are encouraged to represent St. Paul's at the first annual EDSD Youth Group Games at St. Dunstan's Episcopal Church. Participants will receive a free Diocesan youth shirt and engage in lots of youth group shenanigans with peers from all over the diocese. 
FREE St. Paul's Movie Night: Encanto // Saturday, September 24th, 5:00-7:30 pm, Guild Room
Community members of ALL ages are invited to watch Encanto, the tale of a multigenerational Colombian family, the Madrigals, and their magic gifts. There will be dinner, crafts, and meaningful intergenerational conversations about how, just like the Madrigal family, each of us have special gifts and a part to play in God's story. To ensure we have enough food, please RSVP here: https://www.signupgenius.com/go/70a0c4ea8ab2ca6fe3-stpauls
Our weekly formation groups launch soon! Make sure to register your child for the 2022-2023 program year using the form below. If you have multiple children, please register them individually.
Kids Crew (Pre-K to 5th Grade)
Begins Sunday, Sept. 18 from 11:45-1:00  with a whole-family session where we will explore the space, review group expectations, and get to know one another. We will gather in the Queen's Courtyard after the 10:30 service and then walk to the third floor Family Ministry Room together. 
Beginning Wednesday, September 14, 6:30-7:30pm, high schoolers from St. Paul's and Christ Church Coronado will gather to explore their spirituality and connect with one another through a series-based approach to faith formation, where one topic is explored over the course of several weeks. We aim to create a sacred, affirming, and uplifting space for youth to dive deeply into topics and issues relevant to their lived experience as young people.
Middle School Youth Group
Begins Wednesday, September 14th at 5 pm at Christ Church Coronado, our partners in youth ministry. Along with the youth of Christ Church Coronado, our Middle Schoolers will embark on a two year journey through Rite 13, a program centered on inclusive, relational ministry that uses Bible study, prayer, rites of passage, and outreach projects to explore the self and society through the lens of spirituality. All youth and their families are welcome to join us for a free community meal from 6:00-6:30 pm. 
High School Youth Groups Meet at Clare's Cottage on the Christ Church Coronado campus (see below)
Get involved with our Planning Sessions! Our Planning Sessions are a great way to learn more about what we do and work collaboratively on Family Ministry offerings throughout the year. Whereas agendas and minutes are sent out to interested parties, our Planning Sessions do not require ongoing commitments to participate. Just log on and jump in!
Family Ministry Planning Session (General): Thursday, September 8, 11:00 am-12:00 pm, Zoom Click HERE to join the meeting. This is our monthly general meeting where we review upcoming events and plan for future offerings. 
Trunk or Treat Planning Meetings: Tuesday, September 13 and Tuesday, September 27th at 4:00-5:00 pm, Zoom. Click HERE to join the meeting. Planning is underway for our fifth annual Trunk or Treat celebration.