Hi St. Paul's,
My name is Maya Little-Sana and I serve as the Family Minister here at the Cathedral. In this video I will be giving crucial updates about our volunteer requirements; the first of which pertains to all volunteers, the second applies to all volunteers who handle food as part of their serving role, and the third pertains to volunteers who serve our children and youth. At the end of the video, I will talk a bit more about our optional Community Training Event on Saturday, August 27th. If you have any questions about these requirements, please send them my way. My email is little-sanam@stpaulcathedral.org
Now, let's get into it.
Safe Church, Safe communities training
All St. Paul's Volunteers (not JUST Family Ministry) are required to complete "Safe Church, Safe Communities' training on an online platform called Praesidium Academy. In accordance with the guidance issued by The Episcopal Church's General Convention Task Force to Develop Model Anti-Sexual Harassment Policies & Safe Church Training., the Episcopal Diocese of San Diego has recently adopted eight new training modules to be completed by all volunteers immediately. These modules replace the training called "Safeguarding God's People", commonly referred to as "Safeguarding Training". Even if you completed Safeguarding training less than five years ago, you must complete the Safe Church, Safe Communities modules as soon as possible. Once completed, Safe Church training is valid for five years. After you complete each module, you will receive an email notification from Praesidium academy. Please forward each confirmation email to burgessk@stpaulcathedral.org
If you are a Family Ministry volunteer, please cc me at little-sanam@stpaulcathedral.org
Safe Church. Safe Communities training can be completed independently online or, if you're like me and prefer to set aside an intentional block of time to complete a task like this, you may attend our community training event on Saturday, August 27th, which I will discuss more at the end of this video. For more information on how to create a Praesidium academy account and which modules need to be taken, please pause the video and scan this QR code with your phone or click the link in the description.
Food Handlers Cards
As we enter into the new program year, all volunteers who handle and/or serve food must procure a food handler's card issued by a county-authorized food handler training school. Food handlers cards must be renewed every 3 years. A food handlers card may be attained by completing a 75 minute training, followed by an exam. The course costs about 13 dollars, but may be completed for free at our community training event on August 27th. If you would like to begin the training on your own, click the link below:
https://www.cafoodhandlers.com/eFoodMainReg
Once you have completed the training, please forward your card to
vasquezx@stpaulcathedral.org
Kitchen Orientation
Further, all volunteers who work in our kitchen facilities must complete a brief, in-person Kitchen Orientation, the first of which will occur at the conclusion of our community training event. Please check our calendar and communications for additional dates.
Family Ministry Volunteer Screening process
Finally, we have developed a new, comprehensive volunteer screening process for volunteers who serve in Family Ministry. This process includes a background check, a volunteer application, Safe Church training, and an interview to protect the physical and emotional safety of our children and youth. To view a thorough overview of the Family Ministry volunteer screening process, please can this code or click the link below:
https://docs.google.com/document/d/1_A3FX9EgbfdNgITQ2NdBwWWk-GCinPJ_X_c5Dij3XCw/edit?usp=sharing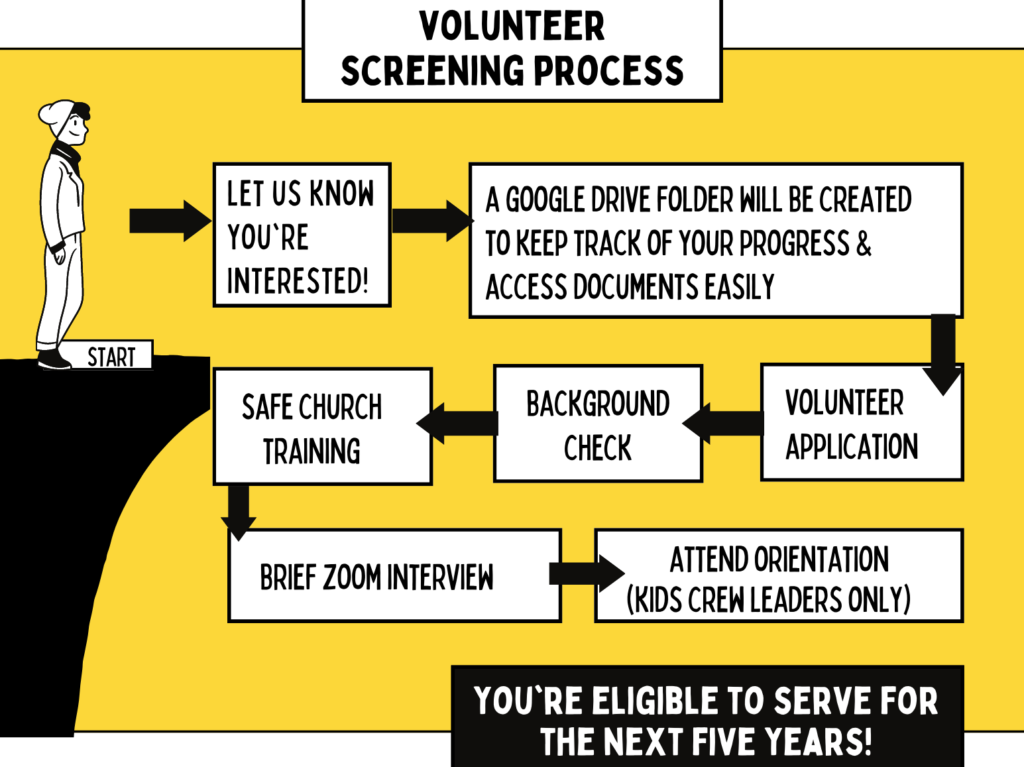 Community Training Event
All prospective volunteers are invited to complete the mandated Safe Church, Food Handlers Training, and Kitchen Orientation alongside other community members on Saturday, August 27th. Safe Church and Food Handlers training will be run concurrently from 9-12, and the Kitchen Orientation will take place after lunch. You may choose to complete, or at least get started on, any training you choose.
Whereas both of these trainings can be completed independently online, this optional event is for people who enjoy working alongside others, may need technological assistance, or prefer to set aside intentional time to ensure the training is completed. Please bring a laptop or tablet, earphones, and any extras that can be used by others. Breakfast and snacks will be served throughout the morning, with a light lunch at 12:30.
Scan this code to RSVP. https://www.signupgenius.com/go/70a0c4ea8ab2ca6fe3-completing
Conclusion
Whoo! That was a lot of information! For a comprehensive overview of the new volunteer requirements, please scan this code:
https://stpaulcathedral.org/important-update-about-volunteer-requirements/
We understand that implementing these requirements will take some time and patience. Ultimately, the safety and care of our community is all of our responsibility. Following these requirements will enable us to love more fully and inclusively as we serve others and God. Thank you.