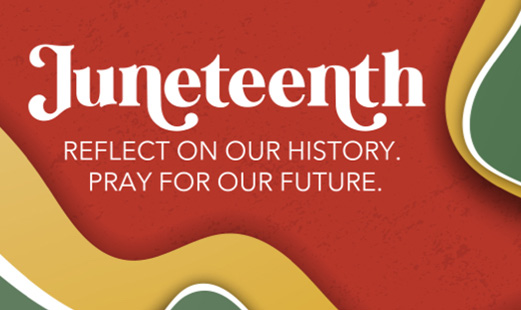 From our Sacred Ground in Action ministry (SGIA)
Juneteenth! You may know about this important date in our history, celebrated each year on June 19: do you know the WHOLE story? Please learn more about this critical date for our neighbors in this evocative short clip.  Then register for the Juneteenth 10-Day Reading Plan: meditations that reflect on our lives in relationship.
For part, but not the whole, story, here's a resource and prayer from the Evangelical Lutheran Church in America:
Juneteenth is a holiday that commemorates the end of slavery in the United States. It recalls how the states of Louisiana and Texas heard the news that President Abraham Lincoln had signed the Emancipation Proclamation on January 1, 1863. Slavery continued in those two states for more than two years after the proclamation was signed beaus the word had yet to travel there. Texas and Louisiana finally got the good news on June 19, 1865. Former slaves broke out in spontaneous celebration. These were dangerous times. Even in the face of resistance and threat, the formerly enslaved Africans found ways to give voice to the wide range of thoughts and emotions at the announcement of the end of legalized slavery in the United States of America.
Prayer:
Holy and righteous God, you created us in your image. Grant us grace to contend fearlessly against evil and to make no peace with oppression. Help us, like those of generations before us who resisted the evil of slavery and human bondage in any form and any manner of oppression. Help us to use our freedoms to bring justice among people and nations everywhere, to the glory of your Holy name through Jesus Christ our Lord. Amen.