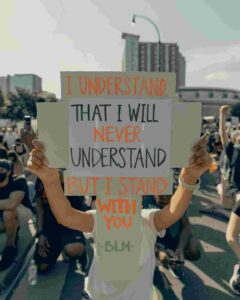 At the second day of It's All About Love: The Episcopal Church's summer festival for the Jesus Movement, worship and a plenary session on racial reconciliation were the focus of "Awake, Arise, Act: Racial Reconciliation Now."  Hundreds of Episcopalians from the Church's nine provinces heard about our call to love one another within the foundation of justice. "What kind of embodiment that we have and embrace matters not only to ourselves, but matters to God," Emory University theology professor Kwok Pui Lan said. "We who belong to the Episcopal branch of the Jesus Movement need to be part of that reconciling power of the spirit." For more on the event, go to https://www.episcopalnewsservice.org/2023/07/11/its-all-about-love-offers-lessons-in-engaging-in-racial-reconciliation-work-at-community-level/
Prayer:
This confession from St Andrew's Church and the Church of the Covenant, Arlington, Virginia, offers a deeper examination of our relationship to community:
Almighty God, Source of all that is, Giver of every good gift: You create all people in your image and call us to love one another as you love us.
We confess that we have failed to honor you in the great diversity of the human family. We have desired to live in freedom, while building walls between ourselves and others. We have longed to be known and accepted for who we are, while making judgements of others based on the color of skin, or the shape of features, or the varieties of human experience. We have tried to love our neighbors individually while yet benefitting from systems that hold those same neighbors in oppression. 
Forgive us, Holy God. Give us eyes to see you as you are revealed in all people. Strengthen us for the work of reconciliation rooted in love. Restore us in your image, to be beloved community, united in our diversity, even as you are one with Christ and the Spirit, Holy and undivided Trinity, now and for ever. Amen.