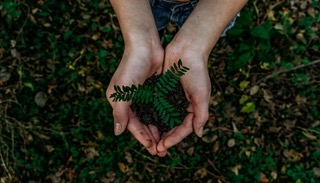 From St. Paul's Simpler Living Creation Care Ministry
In this EDSD Year of Service, Simpler Living celebrates diocesan encouragement to collaborate with our community neighbors. There are two opportunities for outreach to our church neighbors as well as organizational neighbors in the next few weeks.
Plant a Tree! Join St Phillips Episcopal Church, 2660 Hardy Drive in Lemon Grove, this Sunday from 12:30 – 3:30 pm in their good work to increase their neighborhood tree canopy.  Specialists from Tree San Diego will guide the process and all are welcome to bring garden gloves, water, and sunscreen!  This is the first tree planting of the EDSD Tree Project.
Banking on Our Future on Tuesday, March 21 from 11:30 to 12:30 is a March and Rally to tell big banks to stop funding new and existing oil and gas projects that harm God's good Creation. The March begins and ends at Chase Bank, 101 West Broadway. To register, go to visit Thirdact.org (Click Here). If you aren't able to join us on the day of the event, Contact

Diane

for more information on how to participate from home.
Holy Spirit, we thank you for the ways that you bring us together to do good work for Creation, especially in this time of climate chaos. May we always remember how strong we are with and for one another when we grow and take action together, stand alongside one another in beloved community. Amen.