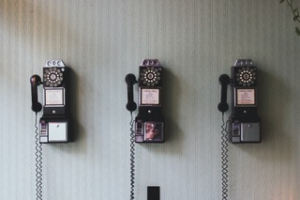 We recall the days of telephone trees, when one person would call three people, and those three would call three others, and so on down the line.  There were certainly a lot of people missed through that archaic way of sharing an important message.
Thankfully we now have many more effective ways of communicating.  Here is one being offered through The Episcopal Church:
Tune in to our new podcast Episco-Pols! 

Go deeper into issues we cover like immigration, healthcare, foreign relations, the environment, and much, much more, all through the lens of The Episcopal Church.
The Episco-Pols moderator and TEC Office of Government Relations officer, Alan Yarborough, will possibly be making a presentation at the EDSD Center this fall.
Similar to our current Advocacy table promoting the Transportation Equity petition, such informational opportunities for intersectional advocacy invite us to "walk our Episcopalian talk" of love and justice.  
(By the way, don't forget to stop at the table after church on Sunday and sign the petition, if you are so inclined!)