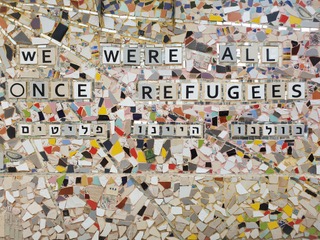 From the Sacred Ground in Action ministry
Today is the International Day of Peace and Justice, especially relevant for those who have left their homelands seeking both justice and peace.
While the welcome location has moved for the safety of our migrant friends, the situation at the border changes frequently and these, our neighbors, continue to need food and many other resources. For current needs and other support, please email Diane (dianelopezhughes@gmail.com).
Here's a glimpse of why we need to be concerned: CBS8.com (Click Here)
Prayer:
For all those who see "home" and all it means disappear behind them;
For all those who cannot see a home in the days ahead of them;
For all those who dwell in daily insecurity;
For all those who are weary and without a safe place to rest their heads;
For all families in migration we pray.
May the image of the Holy Family fleeing oppression stay with us as we enter each new day,
And stay with us each night as we are blessed with returning to a home.
May we also be blessed with compassion for those
Still weary, still seeking, still with so far to go.
[Adapted from Jane Deren, 2007]