Music is an integral part of worship at St. Paul's Cathedral. Music of the Anglican tradition spans the ages from the Renaissance and Tudor masters to today's most innovative composers. The beauty of the finest sacred choral and organ music in the cathedral setting enriches worship and provides inspiration for all who enter the Cathedral whether as a first-time visitor or long-time member.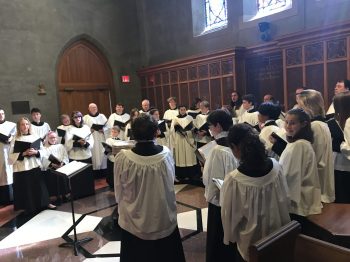 Worship services are not the only time you can experience incredible music at St. Paul's Cathedral. 
Throughout 2022/2023 we will offer a series of free concerts which feature our talented music staff and highlight up-and-coming artists.  Mark your calendar because you won't want to miss these one-of-kind experiences! 
What makes music at St. Paul's special?
Accomplished musicians.  Organist and Choirmaster Martin Green is a native San Diegan who has trained and spent his entire musical career here. He has prepared choirs and accompanied for such notable conductors as Sir David Wilcocks, John Rutter, David Flood, Martin Neary, and Duiane Wolfe.  As an organist, Martin has played as both solo performer and accompanist. throughout the US, as well as Mexico, Canada, and England. He has won several awards from the American Guild of Organists and appeared on NPR's "Pipedreams Live!" He also serves as the Associate Music Director of the San Diego Master Chorale. Sub-Organist and Assistant Choirmaster, Gabriel Arregui, has  appeared in recital with sopranos Julianne Baird and Rosa Lamoreaux, has taught 18th-century counterpoint, and has performed for Queen Elizabeth II, the Duke of Edinburgh, and the Archbishop of Canterbury. He has served as an instrumentalist in the Baroque Music Festival since 1994.
Stunning choirs. The Choral Music program is wide ranging and consists of the Cathedral Choir (adults, mixed voices), which has been in existence since the late 1800s; the Cathedral Choristers (boys and men), which includes the only boys' choir in San Diego; the St Cecilia Choir (girls and men); and the Cathedral Schola (a professional-level auxiliary group to the Cathedral Choir).
An exquisite organ.  The Cathedral's organ has the longest history of any in San Diego — in 2012 it was completely rebuilt by Quimby Pipe Organs. It contains nearly 5000 pipes and is considered one of the finest instruments in the area. Free organ recitals are offered every Friday at 1 pm.