Contemporary Service
in the Courtyard
Second and Fourth Thursdays, 6:00 p.m.
This service will follow closely the liturgy of the cathedral's Doxology Life service using alternative and creative liturgical elements for evening prayer, and making extensive use of light and dark symbolism as the sun approaches the end of its daily journey. The service bulletin will only be available electronically; please bring your smart phone.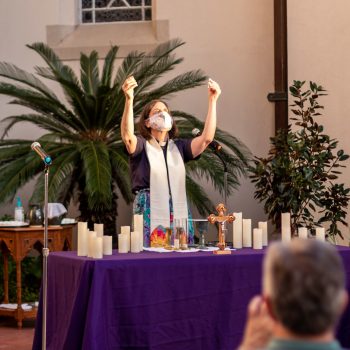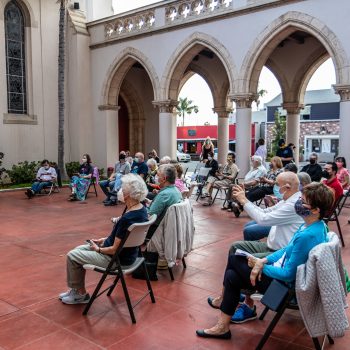 Where is the gathering held?
The worship service is held at 2700 block of 5th ave. 92103.  This is the courtyard on 5th ave of St. Paul's Cathedral.  Click Here to view on Google maps. 
When is the gathering?
For now, the gathering is every Thursday at 6:00 p.m.  COVID conditions change often, so stay tuned to the website for last minute changes.  The start time may also change with the setting of the sun.
What happens at the gathering?
A worship service that lasts about 30 minutes.
What is the worship service like?
Our service is experimental, participatory, experiential and a reflection of those present… Everyone is invited not only to participate in the service, but to help create as well!  Each time we gather, you will see people who have volunteered to present or embody the 6 roles/sections of each service.  They are:
The Officiant: Leads the opening and closing sections.  Provides a closing prayer.
The Psalm: Taken from the Daily Office Lectionary readings for the day.
The Reading: Also, from the Daily Office Lectionary readings for the day.
The Canticle: Any canticle or song, that you bring to offer.
The Prayers: Any prayers from the BCP or otherwise, that you bring to offer.
The Music: Leads or provides the background service accompaniment.
Volunteers are invited to lead, embody or interpret that role/ section/ content in any way they choose.  If you want to share a song, dance a Psalm, or lead a prayer… we encourage you to participate!  Or, you can simply read the text.  By allowing our worship to reflect our community, not only do we get to learn from and share in each other's gifts, but we are able to worship God with all the beauty, diversity, and creativity of the community- a living doxology!
Can I invite others?
Yes!  Please feel free to forward this to others you'd like to invite, and don't hesitate to call or email with any questions or concerns.