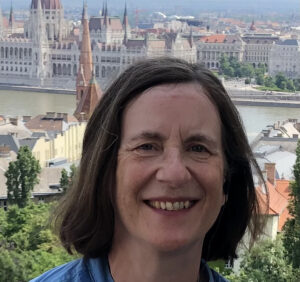 Hello St. Paul's,
I returned to the cathedral on July 5 after ten weeks away on sabbatical. Thank you for allowing me this time of renewal and refreshment. In case you weren't following my travels on social media, here is a summary of my sabbatical activities:
After the annual North American Deans' Conference in Washington DC, I spent a week with my toddler grandson Jack in DC before flying to Scotland. I visited with my siblings on the west coast of Scotland for two weeks, spending quality time with each of them, visiting some beautiful parts of the country, including the holy island of Iona, and also getting to see a sampling of nephews, nieces, and their offspring.
In mid-May I flew to Prague to participate in a Road Scholar tour and cruise on the Danube. We started in Prague, seeing the major sights and attending some concerts. We then headed south, visiting the UNESCO heritage site of Cesky Krumlov en route to the Danube. We boarded our ship in north-western Austria, sailed downstream to Melk Abbey and Dürnstein, and from there to Vienna, where we visited the Schoenbrunn Palace. We continued on to Esztergom, the original capital of Hungary, and finally arrived at Budapest. It was a full week of walking and experiencing these great cities. Highlights of the week included going through about ten locks and experiencing the beauty of the Danube valley.
At the end of May I returned to Washington DC for another week with Jack; then home to San Diego. I spent the last four weeks of my sabbatical time enjoying San Diego (eg climbing the California Tower for the first time), playing lots of chamber music with friends, and getting to know two young cats whom I adopted almost immediately upon returning home.
I very much enjoyed the change of pace and the variety of experiences; and I was very happy to return to St. Paul's and catch up on all that is going on here. There is no such thing as a "summer lull" here! After a week I feel fully up to date and we are moving into the busy Pride weekend and then summer socials. After visiting a number of different churches during my time away I am newly appreciative of all that our staff and volunteer leadership do every day, with or without me. Thank you to everyone who stepped up and went the extra mile in my absence.
I look forward to seeing you at the Pride Parade and summer socials.
Your sister in Christ,
Penny