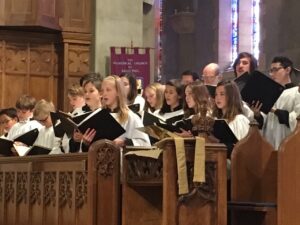 Dear St. Paul's family,
Since I returned from my sabbatical a number of people have asked me about the post-pandemic rebuilding of our music ministry. In this letter I will try to give you as full a picture as possible of our progress in each area and of the challenges and opportunities before us. Please forgive the length of this letter: I want to be sure that you are as fully informed as possible. The essential message I want you to hear is that we are working to restore the full glory of St. Paul's music ministry: we are making good progress; and we are all committed to doing this right, which means taking the necessary time and putting in the necessary effort.
Children's Choir: The children's choirs of St. Paul's have long been a shining star of our ministry. Since the pandemic, we have all missed the voices of our children at Evensong and on special occasions. The children's choir program is being rebuilt but we always knew it would be a slow process. Martin has been meeting regularly with a number of young singers since the beginning of the year: weekly rehearsals continue throughout the summer, with a choir camp later this month. We are essentially starting a new ministry from the ground up, after many decades of it running along on its own momentum, and this is a whole new kind of challenge for all of us. However, it is going very well: see the end of this letter for some very enthusiastic comments from current choir parents.
Some wider context: We are in a time when Christianity has such a negative reputation in the wider culture that parents may be reluctant to expose their children to our faith. Additionally, young families have recalibrated priorities following the pandemic and in many cases are cutting back on children's extramural activities. Third, we were appropriately cautious in restarting choir practices, prioritizing everyone's health and safety, and an unfortunate side effect of this was that we lost some choristers to other choirs. That said, we currently have about a dozen children from several committed families, and more are signing up in response to our social media ads. The children already active are very young and we especially need some older kids, age 10 and up. Please spread the word to anyone you know with kids who might like to sing!
Realistically, it will be some months before we have a group that is capable of leading worship as they used to. I look forward to hearing the children sing for us at Sunday worship at least once in the next couple of months. Canon Green has commented that the new choir has tremendous potential: it will take a couple of years but they are going to be outstanding. This is very exciting news!
Music Staff: Martin Green continues to work extremely hard on recruiting, conducting, and performing. Recently he has been taking some long-overdue vacation time.  We are very blessed to have a musician of Martin's caliber leading the ministry at St. Paul's. Here's a quote from Catie M., a current choir parent: "Martin Green has done a wonderful job with the children's choirs. There is no better way to help our children feel community and close to God, than with this beautiful choir."
Gabriel Arregui is part-time but contributes enormously to all aspects of the music ministry within the limits of his position. Those who attend Evensong know that Gabriel has an extraordinary gift for improvisation at the organ.
Nicholas Halbert, our artist in residence, was brought in on contract for one year which ended July 31; his part-time position was funded by part of a legacy gift, and we do not have the funds to renew the contract. During his time with us, Nicholas focused on organizing the concert series and assisting with the children's choir. He is currently preparing for the next step in his musical career, and I hope he will stay in touch with St. Paul's.
As you may know, we have long depended on several paid professional singers to lead our adult choir. This is why our choral offerings are consistently outstanding. Since we restarted choral services, we have experienced difficulty in hiring section leaders: we have four vacancies at present, one due to the recent untimely death of Vicki Heins-Shaw. It is not easy to find singers who have both the requisite vocal technique and the gifts for leading a section that we need in order to continue the excellence we are all used to. Since the pandemic, we are experiencing a cultural shift, and people in general are less inclined to make long-term weekly commitments (we are seeing this in other ministries as well). This year we stretched the budget to include significant pay increases for section leaders; this brought St. Paul's up to a level on a par with comparable churches. The current lack of a choir "home room" and the chancel lighting issues (to be resolved this month) have contributed to the difficulty in hiring, but with your support we will overcome these challenges.
Adult Choir: took a break in July because many of our treasured volunteers were traveling and we are lacking section leaders (see above). All volunteers are invited to participate in a Sunday morning-only choir in August. Regular choir practice will resume after Labor Day, and I hope that the choir will include some new voices from the congregation. While the quality of our music sometimes seems intimidating to amateurs, Martin is an excellent teacher, and the choir is open to all. It's also a warm and supportive community of committed parishioners.
Concert Series: We started the chamber music series last year and it has been steadily gaining an audience with some outstanding performances. A number of professional musicians have expressed interest in playing recitals in the upcoming program year. With Nicholas departing, there's a need for someone or a group of people to step up and coordinate the series, so that it isn't added to Martin's plate. I would love to participate in brainstorming an eclectic selection of musical styles, appealing to a broad swathe of our neighbors.
New Music Center: As you know, we are planning to remodel the basement of the Great Hall as an all-in-one music center, encompassing a safe rehearsal space, vesting, and music storage.  It is critical that this central ministry have a pleasant, safe, and functional space, rather than the inconvenient and haphazard arrangement we now have across four floors and two buildings. The plans and renderings live up to our highest expectations, and I am excited by the possibilities they offer for developing our partnerships with Voices of Our City Choir and other community organizations.
This is not an inexpensive project, coming in at about $2.5 million, and we have launched a major gifts campaign to fund it. We completed the leadership phase in July (successfully involving 100% of Chapter and parish leadership) and are now speaking with potential major donors. The advice of our consultants is to aim to have about 90% of the total pledged by major donors before going to the congregation as a whole for smaller gifts. We will also need to have 90% pledged before we can start actual construction. Once we have this safe and comfortable space, it will be easier to attract and keep singers of all ages.
Finally, I want to express my confidence in and appreciation of Martin, Gabriel, and all our devoted musicians, who offer their gifts so generously week after week. It is hard work to do this rebuilding at the same time as maintaining the excellent standards we all expect. Four years ago we had no idea that the pandemic was on the horizon, and even when we were in the thick of it, we couldn't imagine the extent of the future challenges that we would face. The world has changed since COVID, and we are still learning just how profound those changes are.  I ask your prayers for our ministries and leaders, and I ask for your patience. Please consider offering your time and talent if you can support or assist in any way with our efforts to return to a status quo. The music ministry is central to our identity, and we are committed to building a solid children's choir and a comprehensive program of excellent music.
Your sister in Christ,
Penny
Additional Comments about the Children's Choir (all comments made in July 2023):
From parent Meredith M: "The choristers program really is SUPERB.  The children are learning excellent music, in a very real way.  Martin is teaching music theory in a way that is accessible to my kindergartener.  He even succeeds in making it FUN for both of my children, though they have fairly different learning styles from one another. My kids come home singing all day!"
From parent Roxana P: "I joined the St. Cecilia Choir at St. Paul's when I was 11 and stayed through the end of high school. I loved it so much that I think (if memory serves me right) I came back to sing in an Evensong or two, when I was back in San Diego on college breaks. Choir filled my days with music, friendship and community. It gave me access to an unusual opportunity: singing with the San Diego Opera's children's chorus. In action-packed high school years — college applications, clubs, volunteering, all that — choir brought serenity and balance. Today I'm no musician, but I did sing carols and hymns as lullabies to both of my babies.
"When I heard the music program was (understandably) halted during the COVID-19 pandemic, I worried it might not come back. So it was a big relief to see it has started up again.
"One son is part of the new cohort and the other will join next year. Here's what T. said he likes: "The breaks, seeing my cousin (who is also in choir), and singing Oh Be Joyful." One cute side effect we're seeing after a few months: He's started singing at home when he's happy. Mr. Green is a top notch musician and choral educator. He trains their voices, teaches technique and theory using fun exercises, and gently wrangles a bunch of wiggly, fidgety kids so they can make such pure sounds. I hope more families will discover this choir. It's such a treasure!"
From parent Alina P: "St. Paul's has always been known for its excellence in music, even long before I joined St. Cecelia's Girls Choir back in 1992. Now, my children are singing these great choral works and learning aout music. I am beyond grateful that choir is back up and running beautifully in this post-pandemic era. We invite others to join us on this adventure and explore. The music lives on!"