As a church, we are called to minister to and nurture the spiritual, emotional, and developmental needs of children, youth, and families. Through our Christian faith formation groups, at-home offerings, inclusive worship, and community-building events we hope to empower them to receive and respond to the liberating, life-giving love of Christ; in themselves, their communities, and the world!
Weekly Kids Crew and Youth Crew will take a Summer break and resume on September 12, 2021. In the meantime, check out these Summer offerings!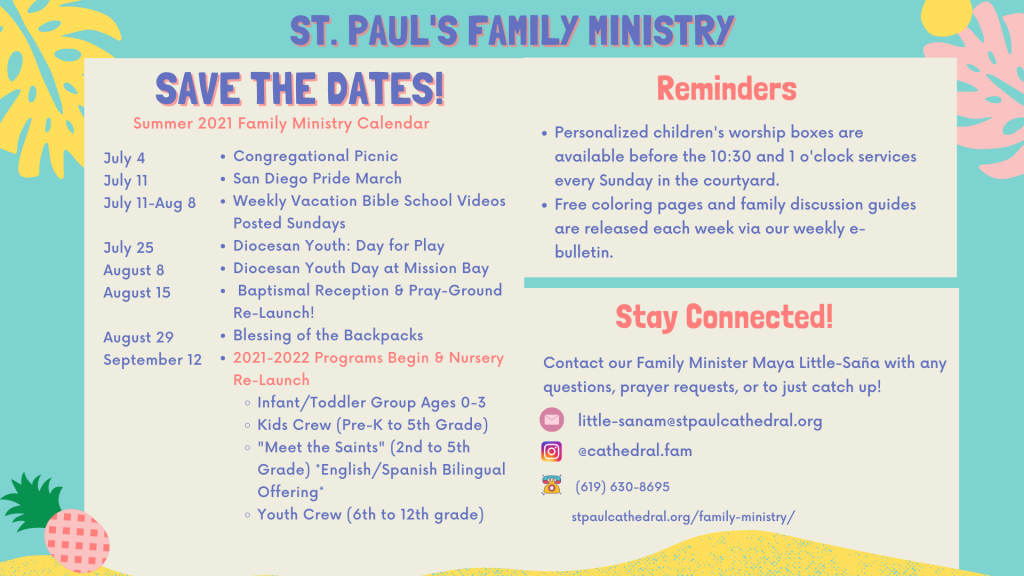 September-June Faith Formation Groups
Our program year runs from September to June and includes weekly programs for kids and youth, as well as a monthly Parent Small Group. We hope to implement some sort of infant/toddler offering in the Fall of 2021- stay tuned!
Kids Crew (Pre-K to 5th Grade)
We believe in the innate spiritual wisdom of children and aim to give them tools to articulate their experience with the Divine. Every Sunday from September to June, our Kids Crew meets from 12:10-12:50 pm to explore a Bible story and activity that provide words and imagery to articulate the love of Christ already within them. 
We hope to resume in-person Kids Crew in the Fall for the 2021-2022 program year.
Youth Crew (6th-12th Grade)
Aligning with our mission to love Christ, serve others, and welcome all,  we strive to create a safe, inclusive, and engaging community where youth will know that they are never alone. Rooted in a commitment to "act justly, love mercy, and walk humbly" with God, we explore how our faith calls us to work for social and environmental justice, building a Beloved Community together.
We meet Tuesdays from 6:30-7:30 pm in the courtyard of Christ Church Coronado, our partners in youth ministry (wearing masks and socially distanced). 
Subscribe to our Family Ministry email list for weekly announcements and faith formation resources.  
Maya Little-Saña first began attending St. Paul's in 2014 as a member of the youth group and has worked here since August of 2017. She currently attends San Diego State University as a Religious Studies major and will graduate in 2022. In her free time, she loves film photography and engaging with theology, scripture, and social justice issues.
For all inquiries relating to Family Ministry programs, please email little-sanam@stpaulcathedral.org