Light up the Cathedral For Pride
Wednesday, July 12, 7 pm, In Person or watch on our YouTube channel.
Join us for our annual lighting of the Cathedral with the Dean and other Faith Leaders as we gather together, in-person to celebrate faith and resilience. We will be joined by special key-note speaker Rabbi Devorah Marcus. Click Here for additional details
Saturday, July 15, 10 am, In Person
Don't miss your chance to walk in the parade as part of St. Paul's contingent! If you wish to participate in the parade but are unable to walk distances our trolley will be available, but space is limited. Please email Susan Jester (jesters@stpaulcathedral.org) if you wish to participate in the parade and make note if you need special accommodations on our trolley.
Sunday, July 16, 8 am & 10:30 am, In Person or watch on our YouTube channel.
St. Paul's Cathedral celebrates Pride Sunday at our 8 and 10:30 am services. Join us for joyful worship, guest preacher Fr. Charlie Bell, and a special coffee hour, as the Pride Festival continues just a few steps away in Balboa Park.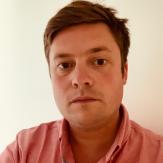 The Rev. Dr. Charlie Bell is a priest and a doctor. He practices as an academic psychiatrist at King's College, London, and The Maudsley Hospital in South London and is a Fellow in Medicine at Girton College in the University of Cambridge. He is also the current curate of St John the Divine, Kennington, in the Diocese of Southwark in South London and an Associate Tutor and Research Fellow at St Augustine's College of Theology, a seminary in southern England. He has written about both medicine and theology, and the intersection between the two, and is the author of Queer Holiness: the gift of LGBTQI people to the church, a recent book that calls for a sea change in the way we talk with and about LGBTQI people in the church, with a particular view to the situation in the Church of England. His most recent book is on death, dying, despair and Christian doctrine, and he also has two forthcoming books on the concept of 'unity' in the Anglican communion and the contribution of queer people to the life of the church.